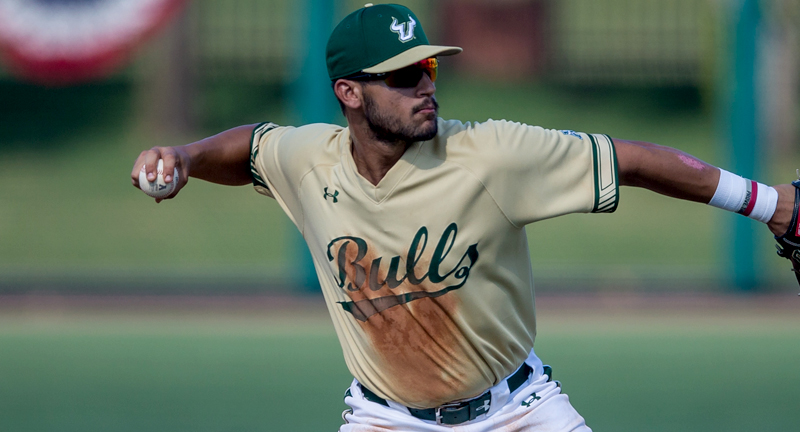 The Bulls, 26-14 (9-6), won 4 to 2 over Central Florida on Sunday afternoon, taking the series and adding another solid win to their resume. 
In the 2nd, Central Florida went ahead 2 to 0 early in the game. In the 3rd, Duke Stunkel Jr. hit a 2-run home run to tie it up at 2 to 2. David Villar then hit a solo shot after that, giving USF the 3 to 2 lead. In the 5th, after a Garrett Zech double, he scored after Tyler Dietrich hit a single and a throwing error, making it 4 to 2 in USF's favor.
Stunkel finished the game 1 for 4 with the big 2-run home run. Garrett Zech went 2 for 4 with a double and scored a run. Villar was 2 for 3 with his solo home run. It was another close game between the two rivals but USF was able to prevail and take a key series, their 4th in conference play this year.
Collin Sullivan (2-0) went 5 innings, allowing 6 hits, 2 runs, walked 2, and struck out 7 in a solid start to cap off the weekend. Noah Yager was impressive in relief, going 3 innings, allowing a hit, 2 walks, and struck out 5 batters. Alec Wisely (S 1) went the last inning, striking out one to close out the game for the victory.
USF will host Bethune Cookman on Tuesday night (game begins at 6:30 PM). the Bulls beat BCU back on 2/28 in Daytona by a score of 16 to 1. Let's hope they can have similar results and get another key win and extend this new winning streak.