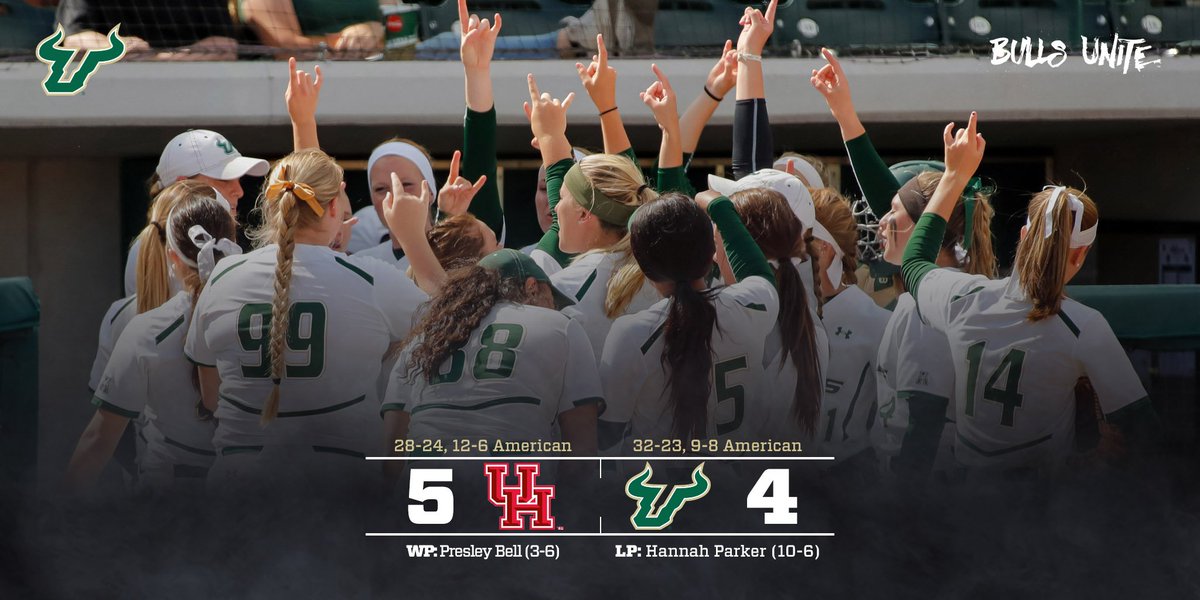 The Bulls, 32-23 (9-8), fell 5 to 4 in 10 innings on the road at Houston to end the regular season. This was a marathon game as the Bulls came up just a bit short. 
In the 3rd, AnaMarie Bruni drove in Lindsey Devitt to put USF ahead 1 to 0 to start the game. In the bottom of the inning though, Houston went ahead 3 to 1 and then 4 to 1 in the 4th. In the 6th, USF responded after Bethaney Keen hit a sac fly, scoring Kristen Wyckoff. BRuni then scored on a wild pitch to make it 4 to 3. In the 7th, Astin Donovan doubled home a run to tie it up late at 4 to 4. Then teams would battle through the extras until the Cougars won in a walk-off RBI single in the 10th inning.
Bruni was 2 for 5 with an RBI and scored a run in the game. Wyckoff was 3 for 5 with 2 runs scored and stole a base. Lindsey Devitt was 1 for 5 and scored a run to lead the top hitters for the Bulls.
Hannah Parker (10-6) went 3.1 innings, allowing 8 hits, 4 runs, walked 4 and struck out 3 batters. Cheyenne Eggens went 1.1 innings, allowing 3 hits, 1 run and struck out one. Susan Wysocki went 4.2 innings, allowing 2 hits, 4 walks and struck out 2 batters.
The AAC tournament begins on Thursday in Greenville, NC as the Bulls will take on Memphis in the first round of the tournament. Stay tuned for tournament coverage as USF tries to keep the season going.