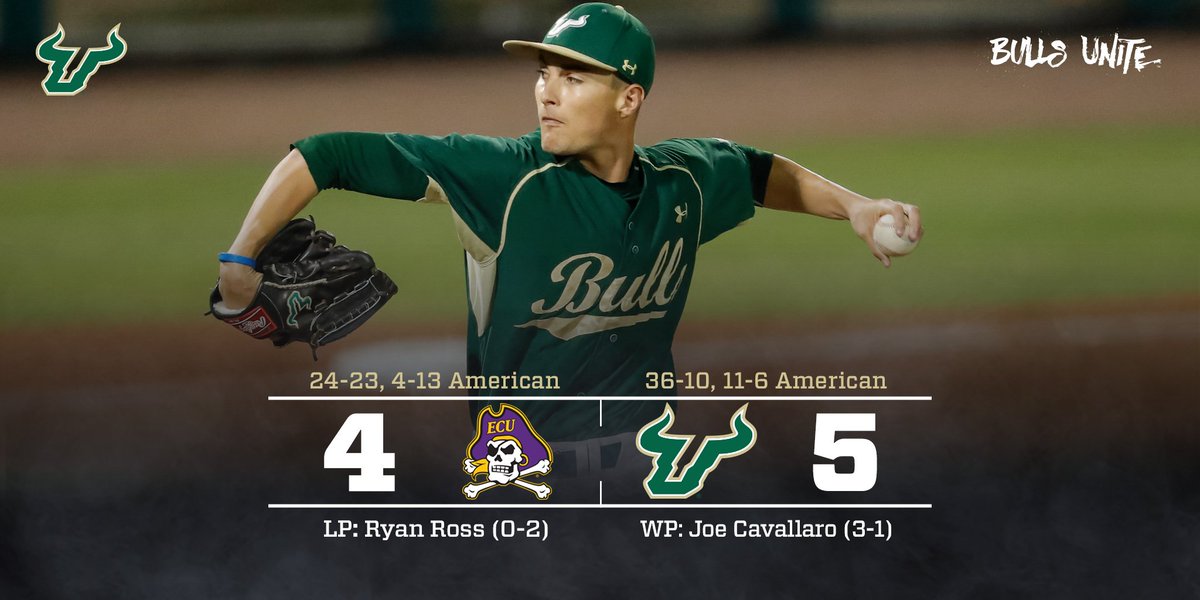 The Bulls, 36-10 (11-6), won in a walk-off win in the 10th inning over ECU, winning the game 5 to 4. This was another huge win for the Bulls as they continue to push for the top spot in the AAC standings. 
In the first, USF went ahead 1 to 0 on a solo home run from Kevin Merrell. In the 5th, the Bulls went ahead 4 to 0 as Coco Montes, Duke Stunkel and Joe Genord all plated runs. In the 6th it was 4 to 2 and then 4 to 3 in the 8th. In the 9th, ECU tied it up, sending the game to extra innings. In the 10th, David Villar hit an RBI single to win the game, 5 to 4.
Merrell was 4 for 5 with an RBI and scored 3 runs as he made his great return (the offense needs him so much). Joe Genord was 2 for 5 with an RBI while Garrett Zech went 1 for 4 with a double and scored a run.
Shane McClanahan (ND) went 7 innings, allowing 5 hits, 2 runs, walking one and striking out an impressive 13 batters. Ryan Valdes went 1.2 innings, allowing 3 hits, 2 runs, and walked on in a rough relief outing. Joe Cavallaro (3-1) went 1.1 innings to close out the game, allowing a walk and struck out 2 batters.
The Bulls will wrap up the regular home schedule on Sunday at 1 PM. Time to take the sweep and move up in the contested standings!