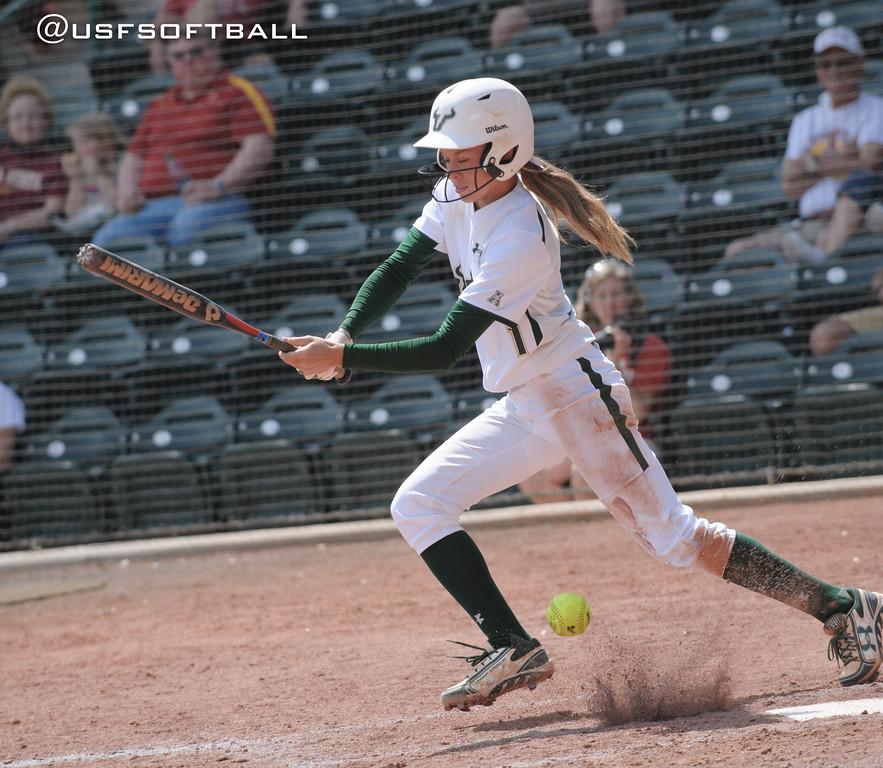 The Bulls, 31-21 (8-6), are on the road to close out the regular season as they head to Houston, who is 26-23 (10-5) on the year. The first game is set for 6:30 PM on Friday followed by 3 PM on Saturday with the finale on Sunday at 1 PM. 
USF is batting .269 as a team. They have a staff ERA of 2.68 while holding opponents to an average of .268 against them. Kristen Wyckoff is batting .423 on the year with 25 runs scored and is 17 for 18 in steal attempts on the year.
Houston is batting .303 as a a team and has a staff ERA of 2.85 (.267 average against them). Here are their top players to watch for this weekend:
Maya Thomas – Sophomore – OF – Thomas is batting .430 with 3 doubles, 13 RBIs, has scored 29 runs and is 15 for 17 in steal attempts.
Shelby Miller – Senior – UTL – Miller is batting .393 with 5 doubles, 10 home runs (leads the team), 51 RBIs (leads the team), and has scored 44 runs.
Arielle James – Freshman – UTL – James is batting .363 with 9 doubles, 2 home runs, has driven in 22 runs and has scored 40 runs.
Savannah Heebner – Sophomore – RHP – Heebner is 13-9 on the year (2.26 ERA) and has thrown 142.2 innings, allowing 141 hits, 63 runs, 34 walks, and has struck out 92 batters.
Trystan Melancon – Freshman – RHP – Melancon is 11-7 (3.03 ERA) and has thrown 106.1 innings, allowing 101 hits, 56 runs, 34 walks and has struck out 87 batters.
Thoughts: This is going to be an interesting series because both teams are young and both want to end the year on high notes entering the AAC tournament. The Bulls need to really get the offense going early and try to take on the young arms of the Houston staff before Miller and the Cougar bats have a chance to answer back.