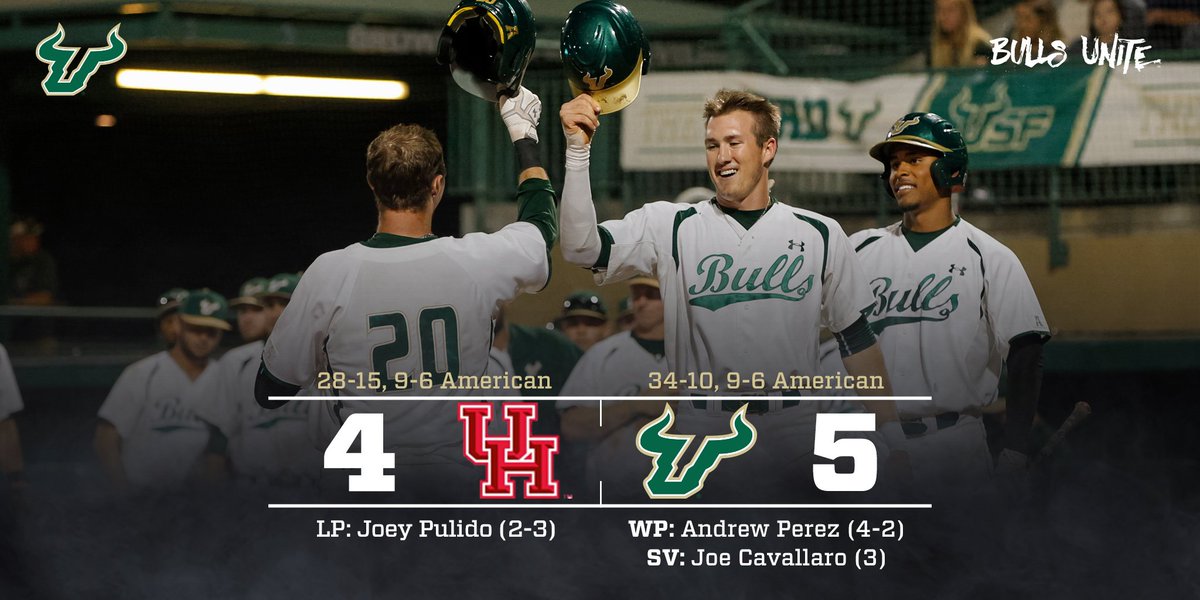 The Bulls, 34-10 (9-6), rallied again late to beat Houston 5 to 4, taking two out of the three games over the Cougars. It was another epic game by this team as they continue to win no matter the odds. 
In the 2nd inning, the Bulls were already down 3 to 0 but the offense would answer in the 4th on an RBI single from Luke Borders to make it 3 to 1. In the 7th, with Houston up 4 to 1, the offense took the lead. Duke Stunkel hit an RBI single and then after a fielder's choice by Coco Montes, it was 4 to 3. Borders then hit a 2-run single to put USF ahead for good at 5 to 4.
Stunkel was 3 for 4 with an RBI and scored a run in the game. Luke was 2 for 3 with 3 more RBIs as he continues to just rake at the plate. Andres Leal (again, no Kevin Merrell in this series) was 2 for 3 with a double and scored 2 runs.
Shane McClanahan (ND) went 6.1 innings, allowing 6 hits, 4 runs, walking 2 and striking out 8. Andrew Perez (4-2) went 1.1 inning in relief, allowing a hit, a walk and struck out 2 batters. Joe Cavallaro (S 3) went 1.1 innings to close out the game and walked just one batter. The USF bullpen (as I have talked about before), did another amazing job in this series finale against a really good Houston club.
The Bulls will host FGCU on Wednesday night (game begins at 6:30 PM) as the Bulls look to make it three wins in a row.