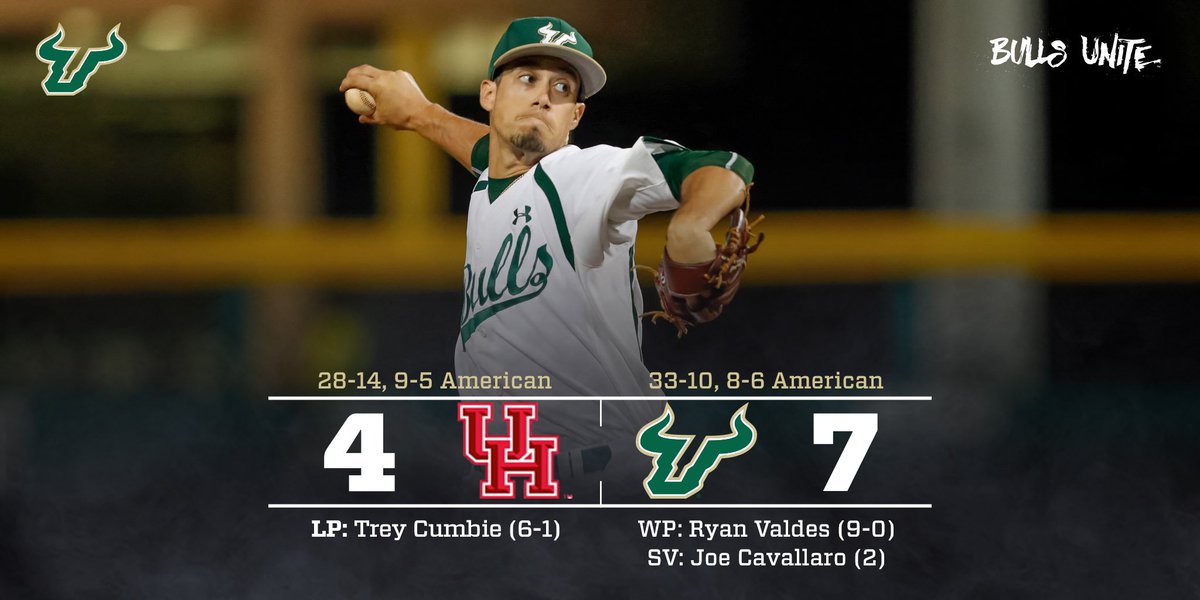 USF, 33-10 (8-6), won 7 to 4 to rally after a rough start to beat the Houston Cougars, evening up the series after two games. This was a great game for the Bulls as they came back to take it. 
USF was down 4 to 0 early in the game as Peter Strzelecki (his mind was not in this game for more important reasons) struggled in the start. In the 3rd, the Bulls got the offense going with a 2-run single from Luke Borders and was followed by a 2-run home run from Joe Genord to tie it up at 4 to 4. In the 4th, Chris Chatfield hit an RBI single to make it 5 to 4. In the 8th, Tyler Dietrich hit a 2-run single to make it 7 to 4 as the offense had rallied, even without Kevin Merrell again, to get the victory.
Luke Borders was 2 for 4 with 2 RBIs and scored a run. Joe Genord went 3 for 3 with 2 RBIs thanks to that home run and scored 2 runs. Duke Stunkel, hitting lead-off, went 3 for 5 and scored a run.
Strzelecki went 1.2 inning, allowing 3 hits, 4 runs, walking 3 and struck out one. Ryan Valdes (9-0) did great in relief, going 4.1 innings, allowing a  hit, walking one and striking out 6. Joe Cavallaro (S 2) came in after him, closing out the game, going 3 innings, striking out 5 batters.
The Bulls will finish the series with Houston on Sunday with first pitch scheduled for 1 PM as they try to take the series.