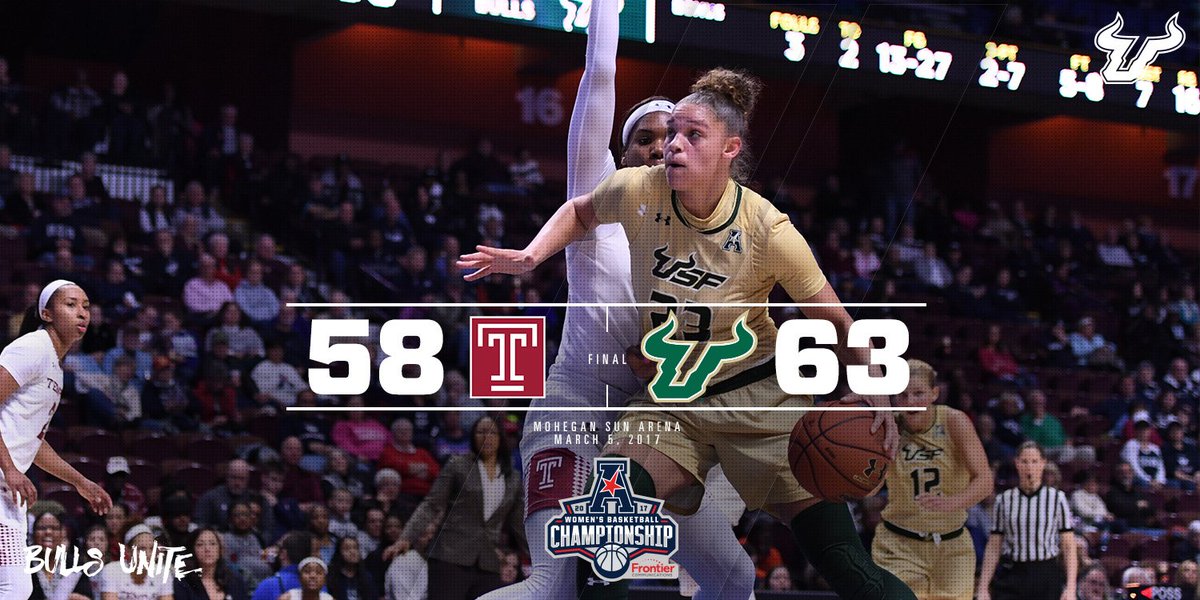 The Bulls, 24-7, won 63 to 58 over Temple in the AAC semifinals. It was a battle, but USF held on down the stretch to win this huge victory as they advance to the AAC finals once again. 
In the first half, the Bulls were up 33 to 30 while shooting 46% from the field compared to a 43% mark for the Owls. It was a close battle and something I had warned about before. The two sides were tied at 17 to 17 in total rebounds as Tamara Henshaw led the Bulls with 15 points and 4 rebounds. She was a wrecking ball in the paint and Temple had no answer for her in the first 20 minutes.
In the second half, USF took the lead and were able to hang on down the stretch. USF shot 38% for the game (39% for the Owls) and were 14 for 24 at the free throw line while the Owls were just 7 for 9 (charity stripe for the win). USF also won the rebounding battle at 42 to 36.
Ariadna Pujol had 6 points, 4 rebounds, and 2 assists while Maria Jespersen had 14 points and 13 rebounds. Kitja Laksa had 18 points, 2 rebounds, and 3 assists while Laia Flores had 8 points, 4 rebounds, and 3 assists. Tamara Henshaw was the leader in that first half and ended the game with 15 points and 6 rebounds and really got USF into position to win this game despite battling foul trouble late.
Feyonda Fitzgerald had 18 points and 4 assists to lead Temple.
The winner faces Uconn tomorrow at 7 PM. Bulls are head to the dance, let's not get hurt going against the machine that is Uconn.