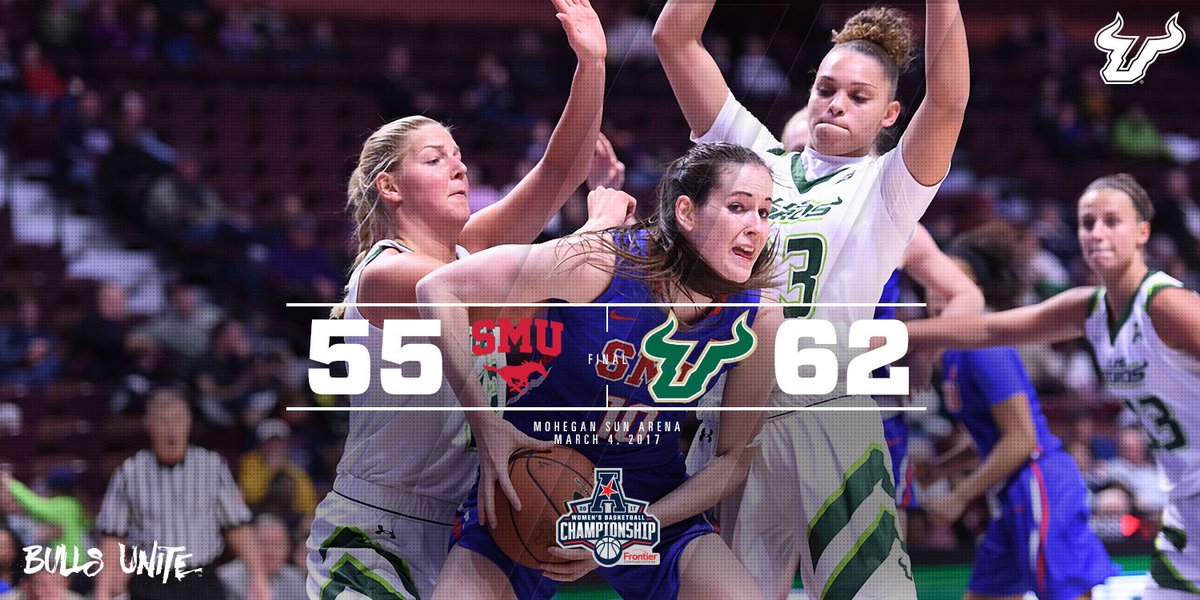 The Bulls, 23-7, won 62 to 55 over SMU in the quarterfinals of the AAC tournament. USF was down in the second half, but rallied late to take down the Mustangs to advance to the semifinals tomorrow night. 
In the first half, the Bulls were up just 24 to 23 in a low scoring battle between the two sides in the quarterfinals of the AAC tournament. USF shot 35% for the first half, while SMU shot 45%. The two sides were tied at 16 at 16 in the rebounding battle, but USF had just 4 turnovers while forcing 7 against the Mustangs. Kitija Laksa and Laia Flores each had 7 points each to lead the Bulls in the opening half.
In the second half, the Bulls were able to rally from down 5 points after the third quarter to take the game. USF shot 43% for the game (45% for SMU) and were 6 for 18 from 3-point range compared to 1 for 6 for SMU (huge edge for the Bulls there). The Bulls lost the rebounding battle at 28 to 33, but the Bulls overcame that and got it done.
Adriand Pujol had 8 points and 2 assists with Tamara Henshaw added 8 points and 3 rebounds. Maria Jespersen had 14 points and 6 rebounds while Laksa had 17 points and 3 rebounds. Laia Flores had 15 points, 8 rebounds, and 6 assists. Coach Fernandez went with this starters for the majority of the game and it paid off for the Bulls (as it has for the entire year).
McKenzie Adams had 26 points and 4 rebounds to lead SMU.
USF will face Temple tomorrow at 7:30 PM in the semifinals of the AAC tournament. Let's see what happens next.