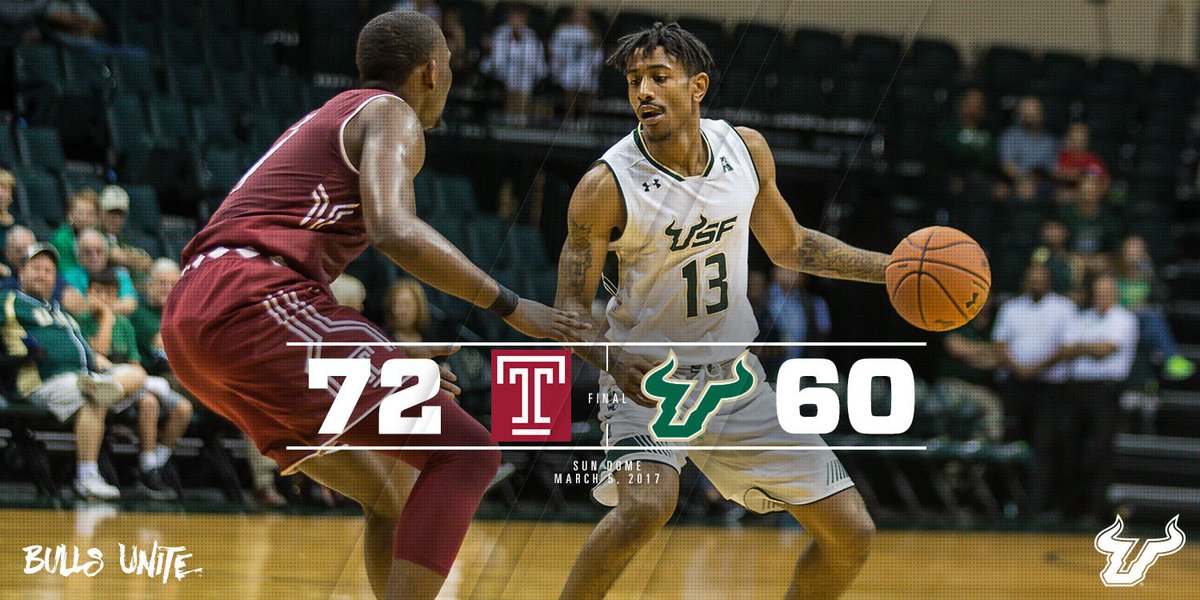 The Bulls, 7-22 (1-17), fell 72 to 60 to Temple to close out the regular season. It's been a tough, long year and they have at least one more game to go before it is all over. 
In the first half, the Bulls were down 26 to 35. USF went 1 for its last 9 shots to close out the half in what is a short summary of what has happened this year with the Bulls. USF shot 37% for the first 20 minutes (42% for the Owls) but were up 22 to 17 in total rebounds. USF did have 11 turnovers while forcing just 6 for Temple Geno Thorpe led the Bulls with 9 points.
In the second half, Temple continued to run away with the game despite USF trying to get back into it. USF shot 42% for the game (43% for the Owls) but were just 5 for 19 from 3-point range while Temple was 11 for 25 (can't win that way). USF did win the rebounding battle at 39 to 35, but had 19 turnovers for the game. Bad shooting, sloppy ball control, and an opponent hitting their shots. Welcome to the summary of the 2016-17 season for this group.
Luis Santos had 14 points, 6 rebounds, and 2 blocks while Ruben Guerrero had 8 points and 8 rebounds. Geno Thorpe led USF with 21 points, 5 rebounds, and 5 assists (5 turnovers). Bo Zeigler and Troy Holston each had 5 points but no one else did anything in this game. Malik Fitts got hurt in the game and only played 14 minutes. It was how the season finale was going to go all along, we all knew it would be ugly and, it was.
Daniel Dingle had 17 points and 5 assists to lead Temple.
The AAC tournament begins on Thursday, but in a short blog tomorrow, I won't be covering it or anything that happens with the program the moments after the regular season ends. They have one more game (at least one more) and the interesting off-season will begin for this group.