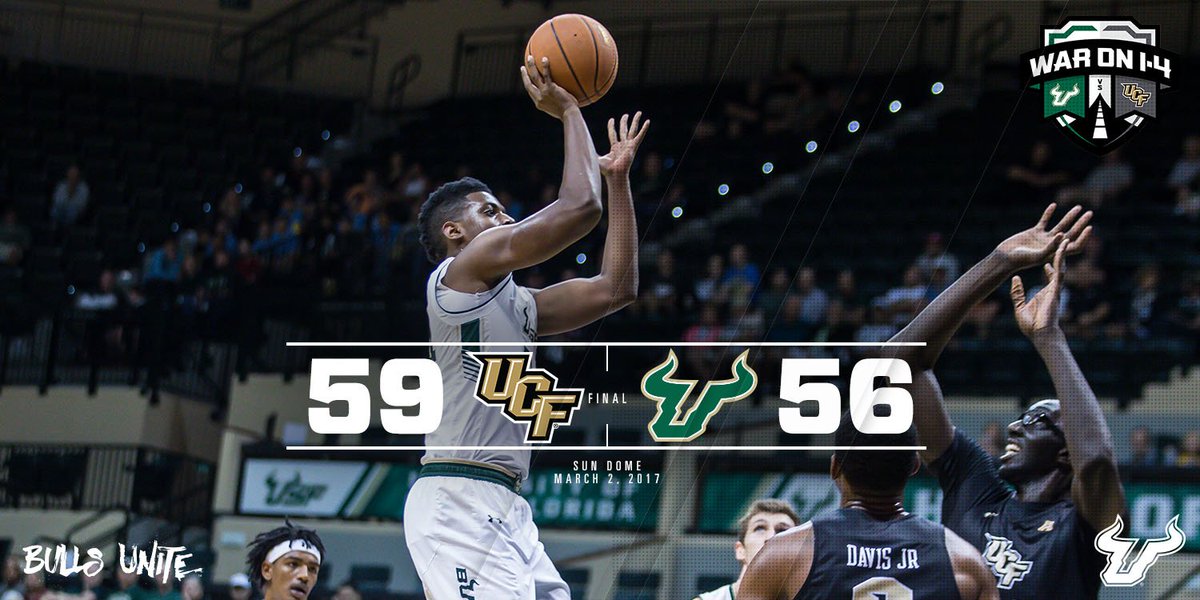 The Bulls, 7-21 (1-16), fell 56 to 59 to Central Florida as this long year slowly comes to an end. USF had a lead in this game, but it fell apart late, summing up the season overall. 
In the first half, the Bulls were actually up 29 to 27 after the first 20 minutes. USF and Central Florida both started slow, allowing USF to get the lead and despite going over 4 minutes late, still had the lead. USF shot 40% compared to a 34% mark for that Orlando school. USF had the 23 to 16 rebounding edge but were down 11 to 9 in the turnover battle. Tulio Da Silva led USF with 10 points.
In the second half the Bulls had the lead, but Central Florida took the lead late in the game after USF went over 2 minutes down the stretch without a bucket. The Bulls had a chance to tie it up late, but Geno Thorpe's shot rimmed out, which sums it all up for this year overall. So close, but sigh, another loss. USF shot 38% for the game (35% for Central Florida) but did win the rebounding battle 44 to 36 but had 16 turnovers in the game. Yeah, we stink.
Da Silva finished the game with 10 points, 5 rebounds, and 2 steals. Troy Holston (he is back in town too) had 14 points and 3 rebounds. Geno Thorpe had 2 points (1 for 7 shooting) with 8 assists while Ruben Guerrero had 6 points, 10 rebounds, and added 5 blocks. Malik Fitts had 11 points and 6 rebounds and Luis Santos had 6 points and 8 rebounds to round out the top USF performers.
Matt Williams had 20 points to lead that team in Central Florida.
USF will host Temple on Sunday afternoon (game begins at 2 PM) to finally end this awful season (please let it end already).