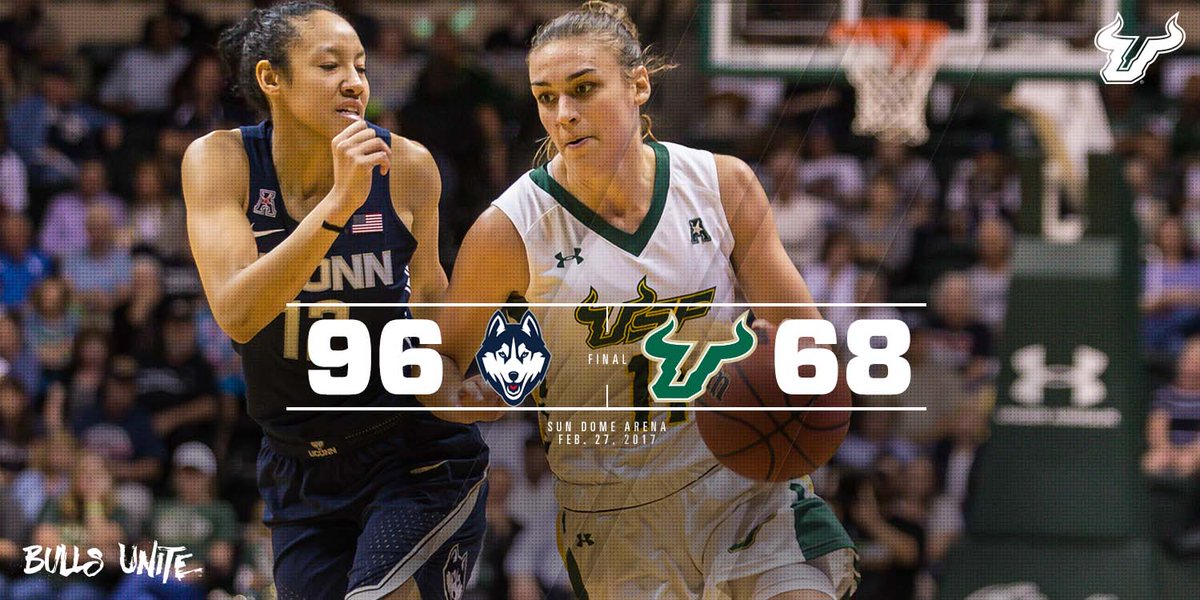 The Bulls, 22-7 (11-5), ended the regular season falling 68 to 96 to Uconn. USF battled, but the Huskies were again too much. It was at least a stronger effort compared to their first game against the machine (aka the Huskies). 
In the first half, the Bulls were down 38 to 56. It was a much better effort than the first meeting, that is for sure. USF shot 47% for the first 20 minutes compared to a 58% mark for Uconn. USF did win the rebounding battle at 18 to 17 but had 9 turnovers compared to just 4 for the Huskies. This is why, again, Uconn is the best in the nation.
In the second half, the Huskies continued to roll while USF battled but just didn't have enough fire power to keep pace. Face it, no one has the fire power to take on Uconn, they are not normal, they are simply a machine.
USF shot 43% for the game (52% for the Huskies) while losing the rebounding battle at 36 to 39 (at least that wast close). USF did have 12 turnovers while Uconn had just 4. Seriously, they do everything perfect and its beautiful to watch and also frustrating because no one has an answer for them.
Ariadna Pujol had 16 points and 7 rebounds. Maria Jespersen had 6 points (just 3 for 10 shooting) and 3 rebounds. Laia Flores had 13 points, 4 rebounds, and 6 assists. Kitija Laksa had 15 points and 3 rebounds and Tamara Henshaw had 7 points and 5 rebounds before fouling out. Dorottya Nagy had 7 points and 3 rebounds off the bench. Coach Fernandez was able to get Paige Cashin, Katelyn Weber and Nancy Warioba into the game for the senior night tradition, so much respect to the 4 seniors suiting up for the last regular season home game.
Napheese Collier led Uconn with 39 points and 12 rebounds. Yikes.
USF will head to the AAC tournament now on Friday to continue their season. The season continues on after this, so time to get back to work and move on to the next game.