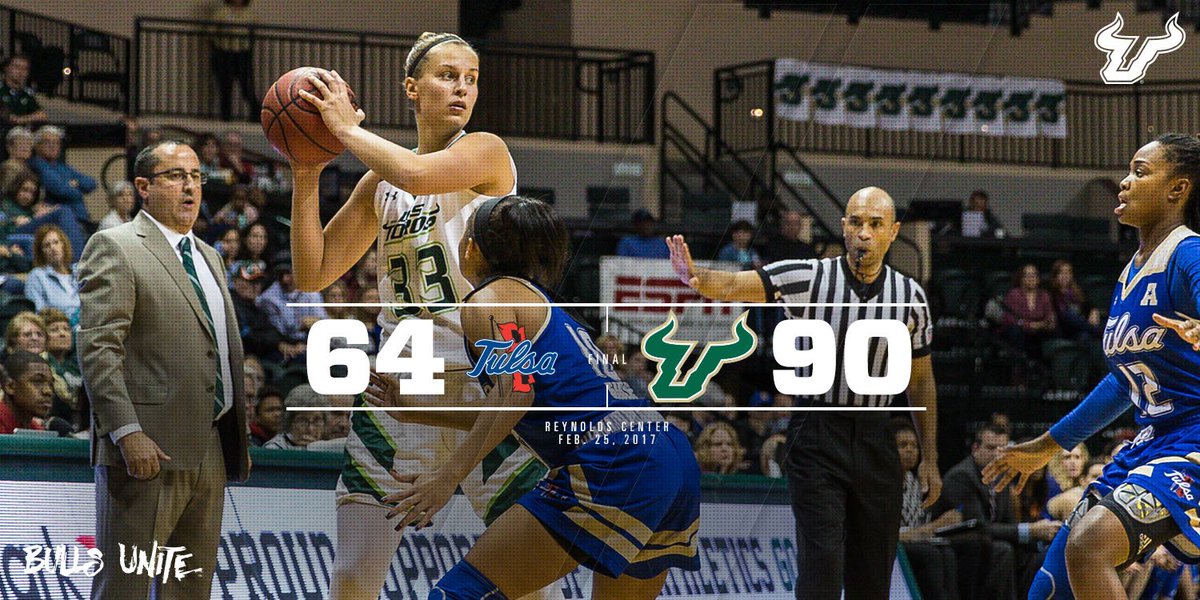 The Bulls, 22-6 (11-4), won 90 to 64 over Tulsa in a big road victory that should get them into the NCAA tournament no matter what happens against Uconn on Monday night. 
In the first half, after a bit of a slow start, the Bulls were up 36 to 26. USF shot 51% for the first half (34% for Tulsa) and won the rebounding battle at 21 to 11. USF did have 6 turnovers compared to 2 for Tulsa, which was not a great sign. Maria Jespersen had 11 points and 3 rebounds to lead the Bulls in the opening 20 minutes.
In the second half, the Bulls pulled away and never looked back. USF shot 61% for the field while Tulsa shot 40%. USF also won the rebounding battle at 37 to 23. USF had just 8 turnovers for the game overall, committing just 2 after the half. It was a much cleaner effort after the break for the Bulls.
Kitija Laksa went off for 34 points and was 6 for 6 from 3-point range. She likes playing Tulsa for some reason. Jespersen had 19 points and 6 rebounds while Tamara Henshaw had 15 points and 9 rebounds. Laia Flores had 9 points, 9 rebounds, and 7 assists while Dorottya Nagy had 6 points and 4 rebounds to round out the top USF shooters in this game.
Jessica Pongonis had 13 points to lead Tulsa.
USF will host Uconn on Monday (game begins at 7 PM) in the regular season finale. This was the way the Bulls needed to finish the regular season, taking care of business on the road over the past two games. Now its time to prepare for the Huskies in a big game that will be aired on ESPN 2.