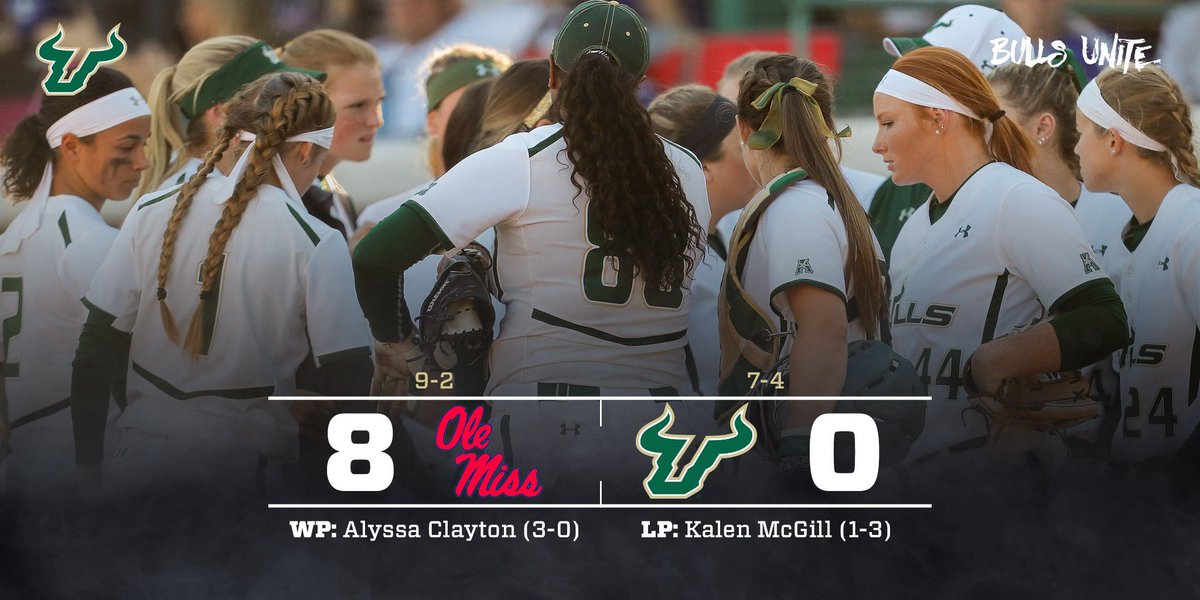 The Bulls, 7-4, got run ruled in 6 innings, falling 8 to 0 to Ole Miss. USF managed just 4 hits in this opening game of the Stetson Tournament. 
In the first, USF was quickly down 3 to 0 and then 6 to 0 as Kalen McGill struggled and had to be replaced quickly. Ole Miss would make it 7 to 0 in the 4th and then take the game with a run in the 6th. It was just a bad night for the Bulls and a game they have to quickly forget about.
Kristen Wyckoff was 2 for 3 with a triple while Sam Worrell was 2 for 3, accounting for the only hits for the USF offense. Juli Weber (dismissed from the program), Mia Fung (has not played since 2/16), and Astin Donovan (has not played since 2/18) were not in the batting order, limiting how the Bulls could attack Ole Miss. I hope Fung and Donovan return soon.
Kalen McGill (1-3) went just 1.1 innings, allowing 6 hits, 6 runs, walking one and struck out one in a rough start. Susan Wysocki went 3 innings, allowing 3 hits, 2 runs, walking 3 and struck out 3 batters. Yeah, again, it was not good at all in this game.
USF will take on Colgate on Saturday at 1:30 PM in the second day of the Stetson Tournament as they try to bounce back. Bulls really need to get the offense going because if they can't, it could be a really long weekend with another game against Ole Miss coming after Colgate on Sunday.