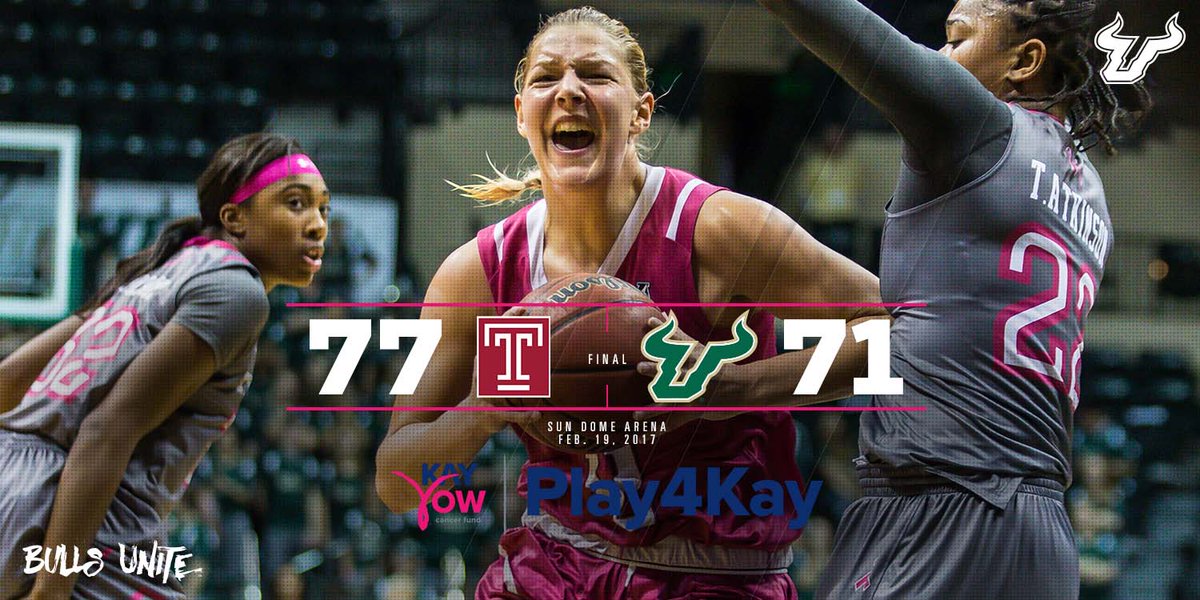 The Bulls, 20-6 (9-4), fell 71 to 77 to Temple on Sunday in their second straight loss in a row. USF struggled all afternoon and could not slow down Temple down the stretch. This is another tough loss. 
In the first half, the Bulls were down 26 to 39 after a rough start for the Bulls. USF went 4 minutes down the stretch without a field goal as they ended the first half shooting just 24% from the floor while allowing the Owls to shoot 44%. USF won the rebounding battle at 28 to 18, but had 9 turnovers, leading to 16 points for the Owls. Tamara Henshaw and Maria Jespersen each had 8 points a piece.
In the second half, USF was able tie it up and even went ahead a few times, however, Temple just would not go away and made some key shots late while USF, who struggled all game, could not buy a bucket. USF shot 38% for the game (46% for Temple) and were just 4 for 17 from 3-point range while Temple was 11 for 25. USF did win the rebounding battle at 50 to 33, but had 12 turnovers (just 5 for Temple), leading to 20 points for the Owls. Bad shooting, mistakes, and a hot Temple team, all led to the eventual loss.
Ariadna Pujol had 8 points and 10 rebounds before fouling out late. Maria Jespersen led the Bulls with 26 points and 11 rebounds. Laia Flores, who is playing on one leg at this stage, had 9 points, 5 rebounds, and 4 assists. Tamara Henshaw had 12 points and 10 rebounds while Kitija Laksa had 14 points and 5 rebounds.
Feyonda Fitzgerald had 23 points and 7 assists to lead the Owls.
USF will head to Houston on Tuesday night (game begins at 8 PM EST) as they try to bounce back, but man, this team is banged up (Flores, Bond, Henshaw, etc.) and now they are in the midst of a losing streak with a game against Uconn in just a week. Coach Fernandez will need to rally the troops to get back in the win column.