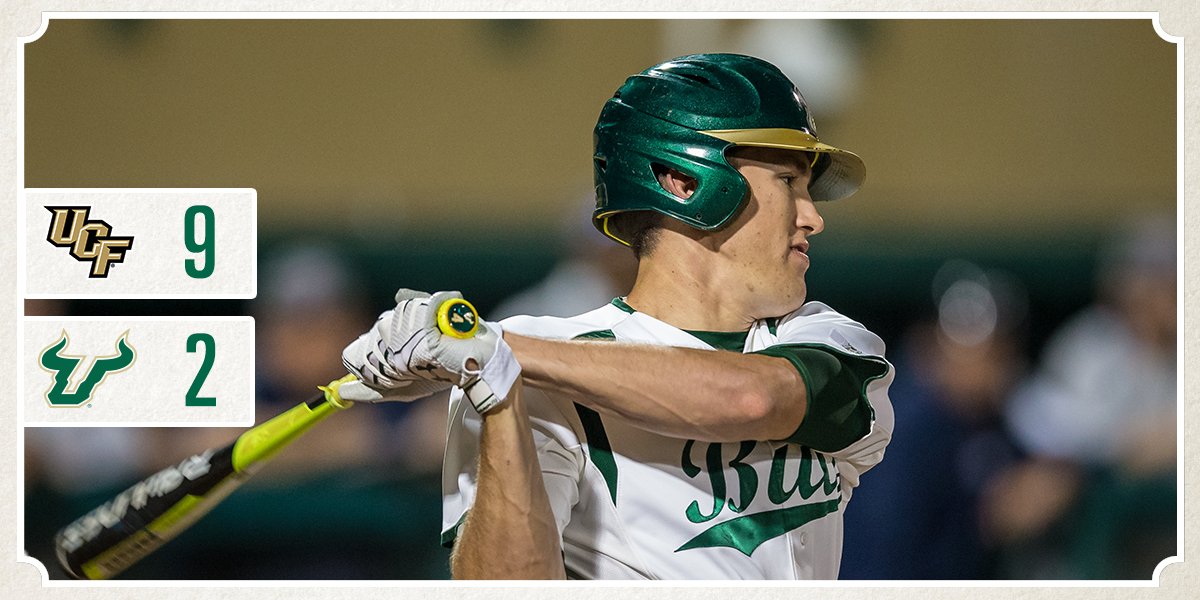 The Bulls, 21-23 (6-9), fell 9 to 2 to Central Florida in the series finale today. C. Florida jumped out to an early lead and the USF bats could not keep pace in this game. 
The Bulls scored their first of two runs in the 4th on an RBI double by Luke Stunkel. In the 7th, Kevin Merrell tacked on an RBI single to put another run on the board, but again, it just wasn't enough to complete the sweep in this series.
Kevin Merrell was 1 for 5 with a run scored and stole a base. Duke Stunkel was 2 for 5 and drove in a run. Luke Borders was 2 for 4 with the RBI double. The Bulls had a solid weekend throughout the series but they just could not get it done today to complete the sweep.
Joe Cavallaro (4-2) went 2.2 innings, allowing 4 hits, 6 runs, 1 walk and struck out 2 batters. It just wasn't a solid start for him. Mike Clarkson went 3.1 innings in solid relief, allowing 4 hits, 1 run, 1 walk and struck out a batter. Tommy Eveld went 2 innings, allowing 4 hits, 2 runs, 1 walk and struck out 5 batters. Dylan Burns went the final inning in relief, allowing 2 walks but no more damage after that.
The Bulls will next host Tulane (first game is Friday at 6:30 PM) as they continue this homestand. USF got two out of the three, which helps in the standings, but Tulane will be a tough test next weekend. Time to move on to the next one.