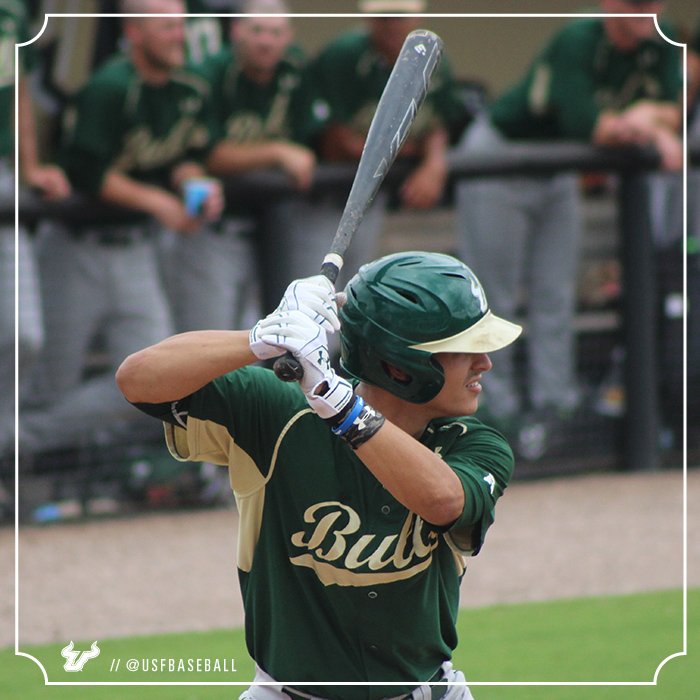 The Bulls, 17-17 (3-4), hung on to beat Central Florida this afternoon by a score of 6 to 4. The Bulls used a 5-run 3rd inning and solid pitching to close this one out on the road.
In the 2nd, the Bulls were down 2 to 0 on a 2-run home run, but they would answer back in the third. David Villar started the scoring with an RBI single followed by a Jonah Garrison RBI hit and an RBI ground out by Joe Genord to make it 3 to 2. Coco Montes and Tyler Dietrich would each drive in a run as well,  pushing the USF lead to 5 to 2. The Bulls then loaded the bases and Garrison scored on a wild pitch, making it 6 to 2. In the bottom of the inning, Central Florida got one back to make it 6 to 3. In the 6th, Central Florida got another one back, making it 6 to 4. The USF bats really went silent after the third, but they did just enough to help the pitching staff hold onto the lead late.
Luke Maglich was 2 for 3 with a run scored, drew 2 walks, and stole 2 bases. Duke Stunkel was 1 for 3 and scored a run. Coco Montes was 1 for 5 with an RBI and scored a run. Tyler Dietrich and Jonah Garrison were both 2 for 4 with an RBI and a run scored each.
Phoenix Sanders (4-2) went 6 innings, allowing 7 hits, 4 runs, 4 walks and struck out 6 batters. Andrew Perez relieved him, going 1.2 innings, allowing a hit, a walk, and struck out 3 batters. Tommy Eveld came in after him, working the final 1.1 innings and striking out one as he recorded his 7th save of the year.
The two teams will play tomorrow at noon in the second game of the series as USF looks to move even in league play and take the series. They will need more hitting if they are going to get another victory moving forward.