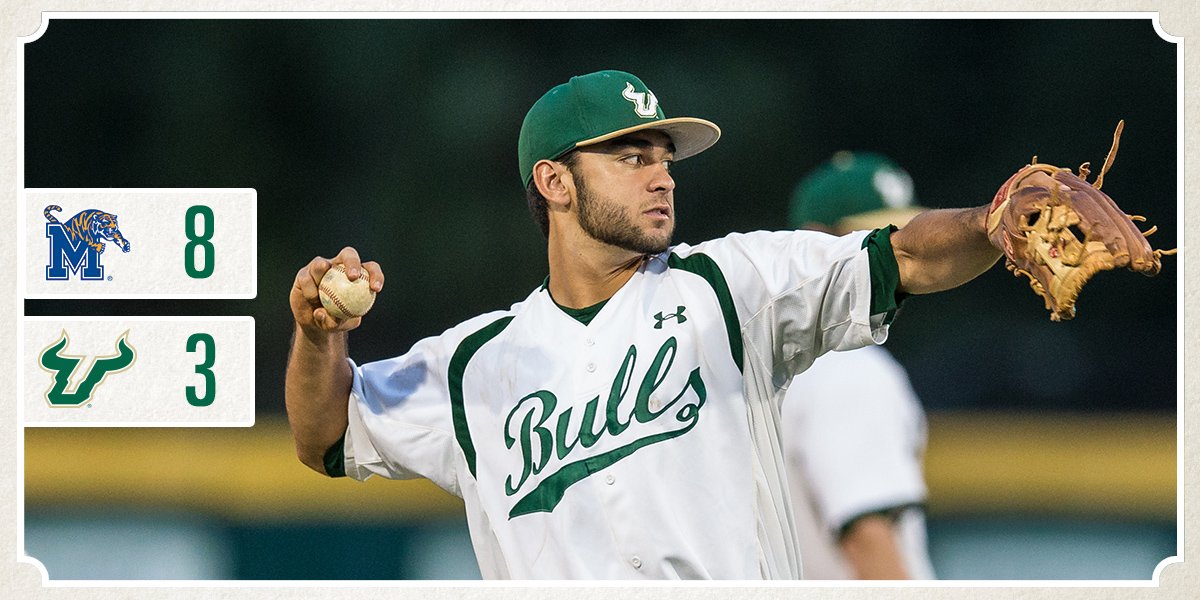 The Bulls, 15-15 (1-3), fell 8 to 3 to the Memphis Tigers tonight in a tough game for the Bulls. Phoenix Sanders struggled and the USF offense could not answer the Tigers at the plate. It was just a bad night in Tampa. 
In the 2nd, the Bulls were down 2 to 0 on a 2-run home run and then 3 to 0 in the 4th. In the bottom of the inning, the Bulls got on the board on a Joe Genord sac fly followed by an RBI single from Tyler Dietrich to pull the game to 3 to 2. After that, the Tigers went on a tear, making it 8 to 2 after the 6th inning as they chased Sanders. In the 8th, Coco Montes singled to make it 8 to 3, but it just wasn't enough late in this game.
Coco Montes was 2 for 4 with an RBI and scored a run in the game. Duke Stunkel was 1 for 4 with a run scored in the game. Tyler Dietrich was 1 for 4 with an RBI. There was not a lot of offense in this game as the Bulls went with at least 6 freshmen in the batting order in this one.
Phoenix Sanders (3-2) had a rough starting, going 6 innings, but allowing 12 hits, 8 runs, 2 walks and struck out 4 batters. Memphis was just on him from the start. Dylan Burns relieved him, going 3 innings, allowing a hit, walking 3 and struck out 3 batters. Burns threw well, but the damage was already done against the Bulls.
The two sides will battle tomorrow at 6:30 PM in game two as USF will try to get back in the win column. They need to shake this game off real fast, get the bats together and pray Brandon Lawson can give them a solid start tomorrow to keep the Tigers off the board.