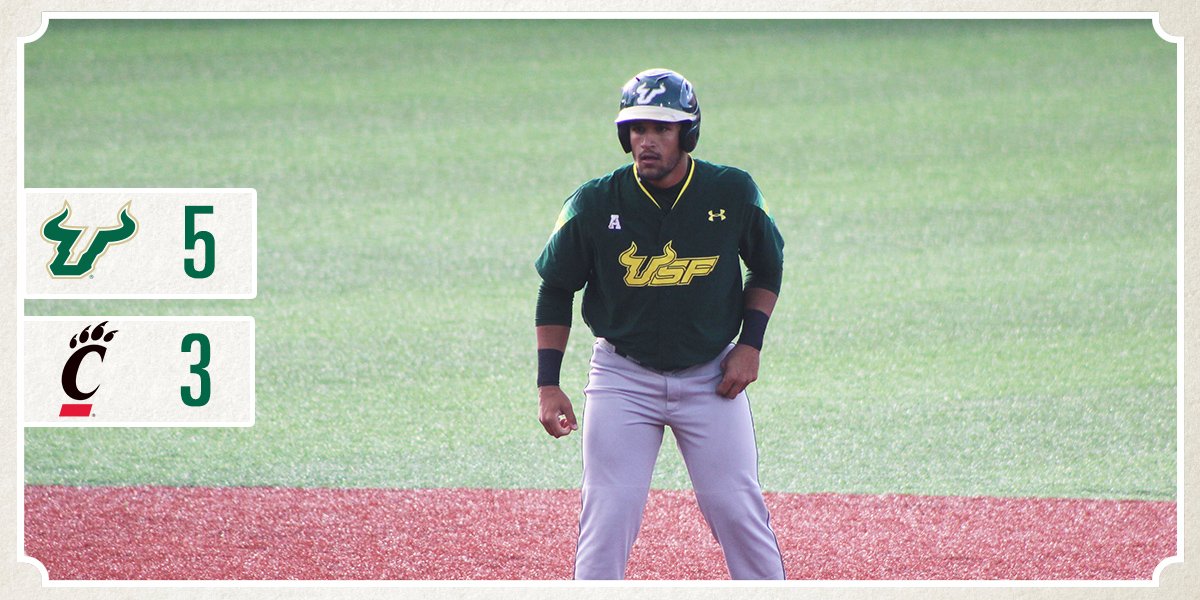 The Bulls, 15-11 (1-0), won 5 to 3 over Cincinnati to open AAC play. The Bearcats were 10-0 at home entering this game, but USF didn't care about that record as the offense did enough and Phoenix Sanders and Tommy Eveld did the rest. 
In the Bulls got going in the 2nd on a 2-run double by David Villar, putting USF ahead 2 to 0. Luke Maglich then hit an RBI single and Kevin Merrell hit another RBI single to make it 4 to 0. Cincinnati got one back in the bottom of the inning to make it 4 to 1. In the 5th, Cincinnati made it 4 to 2 before USF made it 5 to 2 thanks to a fielder's choice by Luke Maglich that allowed David Villar to score. In the 8th, the Bearcats made it 5 to 3 on a solo shot off of Tommy Eveld. Despite that solo home run, that would be it for the Bearcats as USF hung on to the victory.
Luke Maglich was 1 for 5 overall with 2 RBIs. Kevin Merrell was 1 for 3 with an RBI. Tyler Dietrich was 2 for 4 with a run scored. David Villar rounded out the top batters for USF, going 2 for 4 with 2 RBIs and scored 2 runs in the game. It wasn't a huge day at the plate, but it was productive and they got it done.
Phoenix Sanders went 7 innings, allowing 7 hits, 2 runs, 2 walks and struck out 5 batters in another solid start for him (also credit Chris Chatfield for a great play in the outfield as well in the late innings). Tommy Eveld shut the door, working the last two innings, allowing just that solo home run and striking out one batter.
The Bulls will take on the Bearcats again tomorrow at 6 PM as USF tries to take the series to open league play. It won't be easy, but this young team is figuring it out and may be all to scrape together series victories. Let's get it done tomorrow.