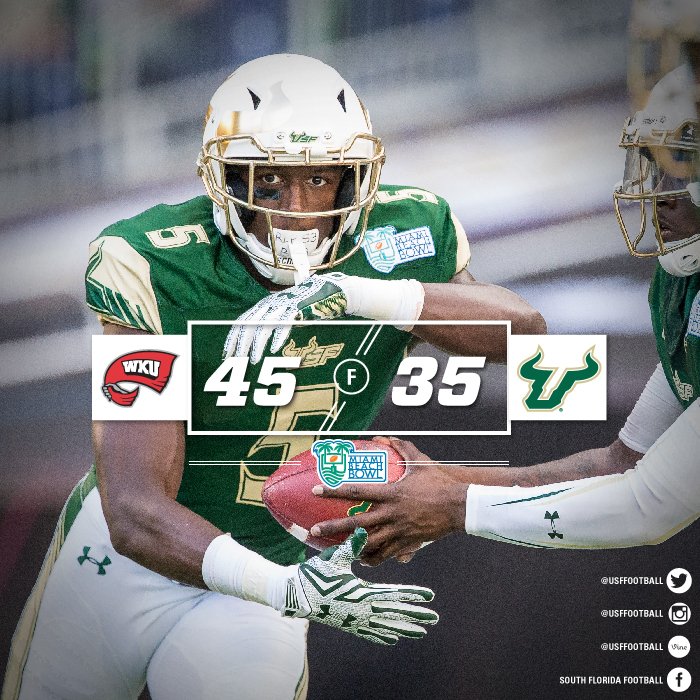 The Bulls, 8-5, fell 45 to 35 to WKU in their bowl game to cap off the 2015 season. USF battled in this game and made it thrilling down the stretch and showed how far they have come this year. They just didn't have enough to close it out with a victory.
In the first quarter, both sides started the game quietly before the Bulls went up 7 to 0 on a 12-yard touchdown run by Quinton Flowers to USF ahead early. WKU had some drives early, but the USF defense was able to hold even with WKU going for it several times on 4th down. At the started of the second quarter, Nigel Harris intercepted the WKU pass and on the next play, Rodney Adams scored on a jet sweep to put USF ahead 14 to 0. Late in the second, WKU woke up on a big flea flicker play and then scored on the next play although it looked like the WKU runner fumbled the ball before breaking the line. They reviewed it, but despite what we all saw, the referees ruled it a touchdown and it was 14 to 7. On the next USF drive, the offense sputtered and gave it right back to WKU who drove down the field late in the second quarter, but after a penalty and two sacks in a row, WKU was forced to punt it away. At the end of the quarter, the USF defense held up again, allowing just a field goal to WKU and went into the locker room up 14 to 10.
WKU held the edge at half with 263 total yards to 180 for the USF offense as the passing game of WKU got going. Mack led USF with 8 carries for 69 yards. Flowers had 7 carries for 38 yards but was 3 of 9 for 31 yards passing in the first half.
In the second half, the WKU offense came to life. USF missed a field goal on their opening drive to start the half and WKU went off for 28 points in the quarter. The only points USF would score in that quarter was on a trick play with D'Ernest Johnson throwing a touchdown pass to Tyre McCants. In the 4th, USF had some life to them. Flowers found Adams on a long touchdown strike and later scored another rushing touchdown to get USF back in the game, but WKU answered back with a touchdown run after USF failed to hit a long field goal and took control for the rest of the game. WKU's offense was just too much for the USF secondary that lost Jamie Byrd to injury late. Brandon Doughty began to hit his targets and took the USF secondary apart. It wasn't pretty to watch as the Bulls didn't seem to have an answer in this game.
On offense, USF totaled 597 yards with 290 yards on the ground. With this game, this unit gained the most yards of any team in program history. Quinton Flowers was 14 for 32 passing with 273 yards and a touchdown. He had 16 carries for 108 yards and 2 touchdowns. He wasn't sharp early, but came to life late and did all he could to lead this team. Marlon Mack, who set the record for most rushing yards in a season, had 17 carries for 108 yards. D'Ernest Johnson had 2 carries for 17 yards but his big play was the touchdown pass. Darius Tice had 5 carries for 12 yards. Rodney Adams had 5 carries for 45 yards with a touchdown and caught 6 passes for 130 yards and a score (did all he could). Tyre McCants had 3 catches for 88 yards and a touchdown. Elkanah Dillon had 2 catches for 48 yards. Ryeshene Bronson had 2 catches for 30 yards. Sean Price did not catch a pass in his last game.
On defense, it was a rough day. They allowed a lot of explosive plays behind them as the secondary got attacked by Doughty. Missed tackles and splash plays took them out of it for the second half of the game as the team allowed 612 total yards with 461 of them coming through the air. Auggie Sanchez had 11 tackles to lead the team (BIG thanks to Collin Sherwin of Bulls 247 for providing the link that had the stats to the tackles and defensive numbers. They were not easily found and he had a direct link to them so have to give him the credit for allowing me to get my quick post-game post up like this). Devin Abraham had 9 tackles. Jamie Byrd had 8 tackles with a TFL before leaving the game in the second half (due to a sprained knee). Nate Godwin had 5 tackles with 1 PBU. Nigel Harris had 3 tackles with 1 interception, which was his first of his career (the unit did not have Tashon Whitehurst for the game, being suspended and ending his USF career). Eric Lee had 3 tackles, a sack, and an interception in his final game of his career. The Bulls played well early, but they allowed too many big plays against them late in the second half and it was too much for them to overcome in the secondary and it cost them the game.
On special teams, it was a rough day for the Bulls. Emilio Nadelman was 0 for 2 on field goal attempts (in his defense, they were very long ones). Mattias Ciabatti was suspended for the game after missing curfew and spent his last USF game back in Tampa watching the game. In his place, redshirt freshman Brent Gordon filled in and punted 7 times, averaging 44.9 yards per punt and did a solid day. Johnson had 5 kick returns for 97 yards total. Overall, they had a solid day in the return game with the coverage units and did not allow any big plays to occur. It was just a bad day for Nadelman kicking overall.
Now the off-season begins for the Bulls. The team will have a long off-season to learn from this game, get better, and regroup. This team took a big step forward this year with the return to the postseason. They return a lot of talent heading into next year, have Coach Taggart locked in with a new contract extension, and will be on the recruiting trail big time. Things are only going to get better moving forward for this program. I am glad we have turned the corner for this team and things are going to be better.