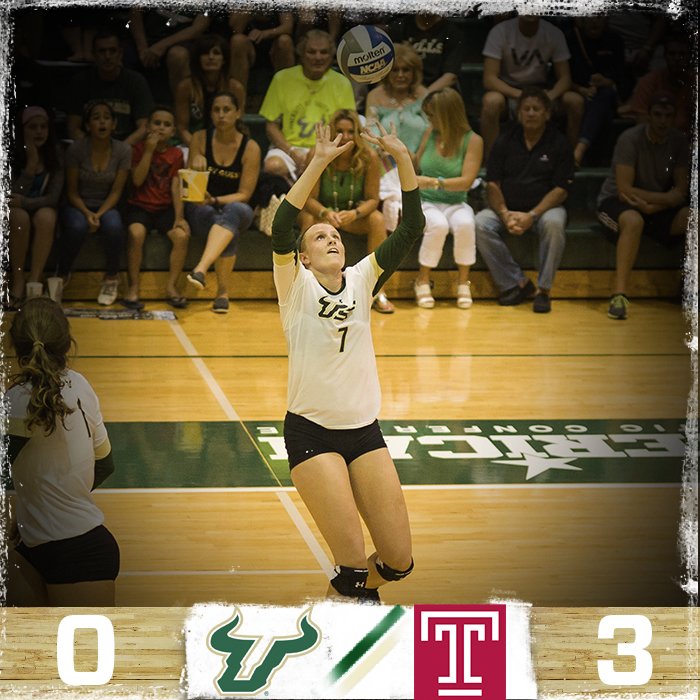 The Bulls, 9-19 (6-10), fell in 3 sets again to Temple (25 to 14, 25 to 20, 25 to 23) in another rough game for the Bulls. USF rallied late in the second and third sets, but it was not enough for the ladies as their long season continues. 
There wasn't a lot on the offensive side for the Bulls in this game. The Bulls hit .172 against .308 posted against them. USF only totaled 34 total kills compared to 56 for Temple, they were just too much at the net.
Clara Payne had 5 kills. Dakota Hampton was held in check again with just 4 kills and 6 digs in the match. Priscilla Eheize had 6 kills and 2 digs in the match. Wylie Devlin had 18 digs in a big game for her on the defensive end of things. Natalia Soares had 12 assists and 4 digs in the match to round out the top contributors for the Bulls. Again, they just did not have an answer against a very dominate Temple team that is tough at home.
The Bulls will return home on Friday to take on Cincinnati (game begins at 7 PM) as the ladies try to get that elusive 10th win on the year. USF lost to the Bearcats on October 11th in 4 sets on the road and will be looking for some revenge in this game.